A floatation tank is a sensory experience like no other, a soundless, lightless pod that's filled with skin-temperature saltwater. This Epsom salt solution creates a super buoyant environment — allowing the user to effortlessly float on the surface and drift off into profoundly relaxing and meditative states.
Initially designed to explore consciousness, the float tank is now utilized to enhance health and wellbeing — which is why it's becoming a popular addition to high-quality hotel spas.
Flotation tanks deliver many health-related benefits, and because they're easy to install and maintain, they're the perfect add-on to premium leisure facilities where customers are looking for exceptional wellness experiences.
There are many reasons why a high-end hotel spa should have at least one float tank — here are a few of the most compelling.
1. Float Tanks Help Guests to Relax
When customers check in to a hotel, they usually expect to relax, unwind, and leave the real world behind. An hour in a float tank promotes intense feelings of peace, calm and tranquillity and will also encourage a good night's sleep.
2. Floatation Tanks are a Powerful Well-being Device
Research has shown that just one hour of sensory deprivation can alleviate the symptoms of depression, anxiety, and stress. Once guests know they can leave the hotel or spa feeling mentally and physically reinvigorated they'll be more likely to visit again.
3. High-Quality Venues that offer Floatation Tanks
We know the importance of giving guests the experience of a lifetime, which is exactly why a number of exclusive hotels across the globe have understood the benefit of adding the i-sopod to their portfolio of spa services. Recently we've installed units in locations such as Dormy House, Hotel & Spa Cotswolds, the prestigious Deplar Farm (which sits on a stunning glacier in Iceland), full list:
Whatley Manor Hotel & Spa, Malmesbury
Lowry Hotel Spa, Manchester
Dormy House, Hotel & Spa Cotswolds
The Retreat at Elcot Park, West Berkshire
Ballykisteen Golf Hotel & Spa, Tipperary
Deplar Farm, Hotel & Spa, Iceland
Northern Light Inn, Iceland
Ockendon Manor, Hotel & Spa, West Sussex
Bio-hotel Kenners LandLust Germany.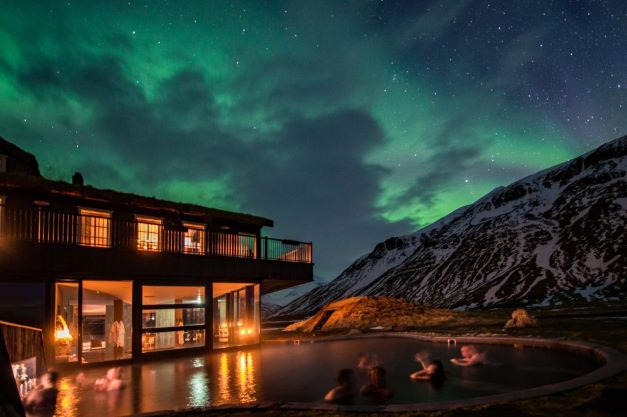 Deplar Farm in particular has earned a stellar reputation amongst worldwide hotel and spa enthusiasts, and we freely admit the spectacular location is one of the hotel's biggest pulls. Although we believe their stunning spa, equipped with two i-sopod floatation tanks is also a big draw too.
4. Floatation Tanks aid Recovery
Floatation tanks are already used in professional sports because they help athletes to recover from injuries and strenuous sessions of physical activity. In fact, a 2016 study revealed that 'floating therapy' can help users to recover both physically and mentally after a vigorous workout. There are also plenty of research studies that prove to that sensory deprivation is an effective way to tackle acute and chronic pain.
5. Float Tanks Give Business Customers the Chance to Unwind
Whether an affluent business customer has just stepped off a long-haul flight or come out of a high-pressure meeting, giving them options to relax and unwind is essential. If you can't impress them with facilities that promote mental restoration and jet lag recovery, they may well take their money elsewhere. Fortunately, float tanks have been proven to help in both areas.
Installing a Float Tank in a Hotel and Spa Couldn't Be Easier
While our flotation tanks are specialised pieces of equipment, they're relatively easy to maintain once they're in place. At i-sopod, we pride ourselves in the production and installation of free-standing flotation tanks designed to perfectly complement any spa or wellbeing facility.
We've designed our state-of-the-art float tanks so they're very easy to maintain and operate by staff members. And because we provide detailed training as part of our service, our clients enjoy all the benefits of our products from day one. We also provide ongoing support that ensures hotels and spas give their patrons the very best sensory deprivation experience at all times.
To find out more about our float tanks and the benefits they deliver, download our brochure. Or if you'd like to speak to one of our experts, call us on 020 8418 9872.